Residential and Commercial Irrigation
TriState Water Works is a company that services, maintains and manages residential and commercial irrigation systems. Properties included in this category are individual lawns and gardens, golf courses, parks, cemeteries, office parks, areas managed by home owners associations and any non-agricultural lawn or garden requiring irrigation.
Careers Available in Residential and Commercial Irrigation
There are two main divisions in residential and commercial irrigation careers: Home Office and Field. In the office, employees handle client relations, scheduling, management and more. But out in the field is where the real fun happens. Employees get to enjoy the outdoors, get their hands dirty, solve problems and meet clients. These job titles include:
Irrigation Apprentice
Irrigation Technician
Senior Irrigation Technician
Job Site Foreman
Irrigation Contractor
Irrigation Installation
Companies that install sprinkler systems have more moving parts than management companies. Large jobs require more sales efforts, bidding, materials purchasing and scheduling. Often, irrigation installation is part of a larger landscaping project. Companies range in size from one location to a region-wide network with multiple branches.
Careers Available in Irrigation Installation
There are several non-technician roles available in installation that require a mixture of office and field work. The design of the irrigation system must to meet the needs of the planned landscape. Field work is generally planned out and requires less creativity to install. Some job titles in irrigation installation include:
Bidder/Estimator
Branch Manager
Equipment Operator
Irrigation Consultant
Irrigation Designer
Irrigation Technician
Irrigation Installer
Job Site Foreman
Project Manager/Supervisor
Purchaser
Regional Manager
Agricultural Irrigation
Irrigation of agriculture is the largest segment of irrigation in the United States. The industry includes crops, farms, greenhouses, nurseries and more. The focus here is on conserving water, protecting investments and increasing yields.
Careers Available in Agricultural Irrigation
The Irrigation Association provides a helpful organizational chart showing career paths in agriculture.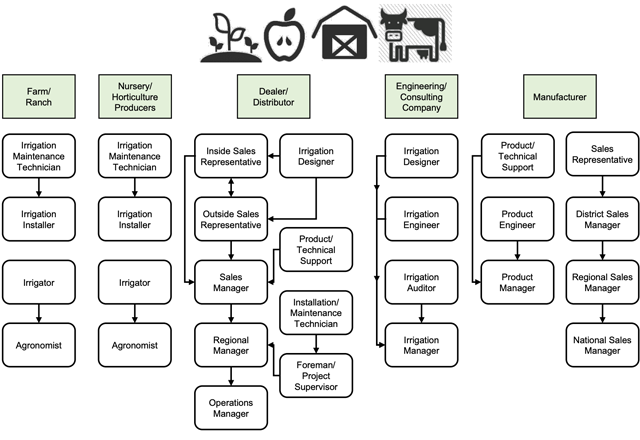 Irrigation Manufacturing and Engineering
Away from the field are further opportunities in engineering and manufacturing irrigation products. Innovations in the industry are important for water conservation, performance, appearance and cost. Manufacturers include Hunter Industries, Reinke Manufacturing Company Inc., Rain Bird, Lindsay Corporation, Netafim, Irritec and more.
Careers Available in Irrigation Manufacturing and Engineering
Jobs at large manufacturers differ significantly from other irrigation opportunities. These are some job titles you will find in this segment:
Sales Manager
Sales Representative
Product Engineer
Product Manager
Product/Technical Support
Is a Career in Irrigation Right for You?
All technical irrigation skills can be taught to someone who is reliable and willing to learn. But there are three personality traits that predict if you'll be successful in irrigation:
You like working outdoors
You have problem-solving smarts
You have good people skills and enjoy talking to clients
To learn more about careers in irrigation, feel free to call our president, Sean Mullarkey at (513) 964-1250.