The Results are in, and Smart Watering is the Winner
A smart watering system is a relatively new feature that can be added to your existing irrigation system. At TriState Water Works, we have been highly impressed with the performance of the smart watering systems we have tracked over the last couple of years. With plenty of customer installations out in the field, we are confident in recommending smart watering to all homeowners.
3 Smart Watering System Benefits
Smart watering systems are the best irrigation innovation to come along in years. The benefits are truly game-changing for homeowners.
Smart watering systems make sure your lawn and landscaping get the right amount of water. The system monitors the local weather to predict how much water to use. This benefit goes beyond a simple rain sensor, which only turns off the sprinkler system when it's actually raining. Through drought or heavy rain, your landscaping will get the water it needs to stay healthy.
Smart watering systems will use up to 50% less water. A normal irrigation system is likely to overwater your lawn and plants. That's not ideal for your landscaping, the environment or your wallet. We've been tracking our customers' real-world water savings here in the tristate, and each one of them have seen water savings.
Smart watering systems issue alerts when the system needs repair. These alerts go to the homeowner, and optionally to your irrigation contractor as well. Some of our customers have opted for us to handle all alerts and repairs without them needing to get involved. This arrangement is especially valued by our commercial customers. Because the system identifies the exact nature of the problem, repairs are made more quickly, efficiently and less expensively. This also improves turf and plant health, because the need for repair is identified right away.
With all these benefits, our customers never have to worry about their irrigation system again. It just works.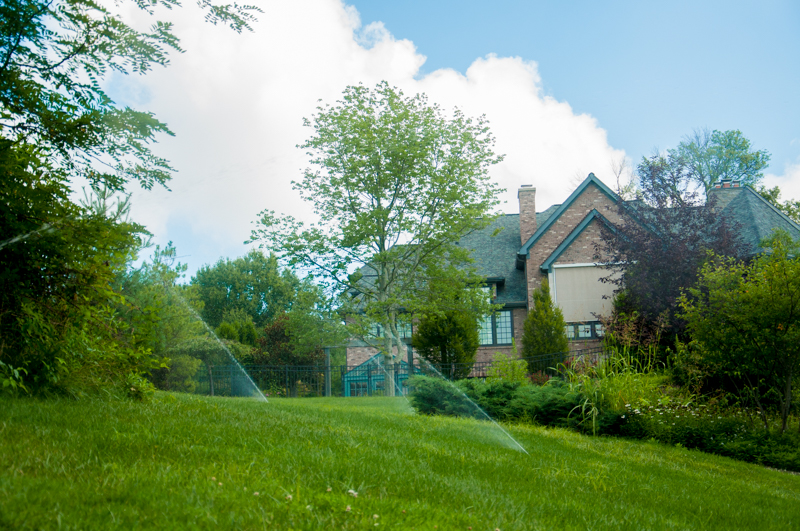 Smart Watering System Basics
If a smart watering system is starting to sound magical– it's not! There are well-developed elements of the system that allow it to work so well.
Smart controller: the brains of the operation replaces the standard irrigation controller. We recommend and install the Hydrawise Smart Controller.
User App: Controls, reports, alerts and more are accessed either through a smartphone app or website portal. Our contractor portal allows us to manage all of our customers' smart watering systems.
Flow meter: This optional upgrade measures the flow in your irrigation system. It detects leaks and identifies their location. A flow meter really takes your smart watering system to the next level.
Zones: We can't only rely on computers to be smart. A smart watering system will also have the right number and placement of irrigation zones to provide water to your lawn, landscaping beds and trees.
Sprinkler heads: The sprinkler heads used in the different zones will differ based on types of plantings or how near it is to driveways, sidewalks, etc.

Getting Started with a Smart Watering System
A sprinkler system upgrade needs careful, expert planning. Before we install a smart controller, we make sure the entire system is set up to be successful with smart watering. We will recommend any needed changes to zones and sprinkler heads before we go ahead with installation.
For our customers, though, getting started with a smart watering system is as easy as making an appointment. Contact us to learn more and to get a quote.