Smart Watering with a Sprinkler System Controller
Smart Watering from TriState Water Works
Smart watering with a Hydrawise sprinkler system controller takes irrigation to the next level. Save time and money, all while guaranteeing optimal performance from your sprinkler system.
Benefits of Smart Watering: Automatic Adjustments and Alerts
Smart watering means the Hydrawise controller is monitoring your system at all times and will automatically adjust your watering schedule if:
There's a drought in the area
The day is going to be particularly hot and sunny
We're getting more rain than usual in the season
Rain or shine, your lawn and garden will get the right amount of watering. And you'll save up to 50% on your water usage!
Via the Hydrawise app, you'll be notified if any problems occur, like:
A wire is inadvertently cut during landscape maintenance
A sprinkler head gets broken
An underground valve springs a leak
Call TriState Water Works with any alerts, and we'll be able to fix the problems or make optimizations, before your lawn and garden can be affected.
Sprinkler System Controller Pricing
There is a one-time set-up fee of $1200- $2400, depending on the number of sprinkler zones.  Sprinkler system controller pricing includes:
Installation of all hardware required to run the system
Set-up of Hydrawise sprinkler system management software
Training on the sprinkler system controller and Hydrawise app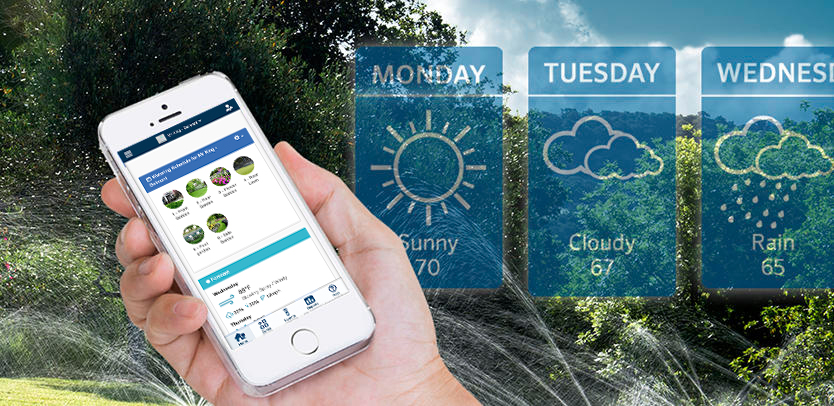 About TriState Water Works
Living up to our core value of Unceasing Improvement, TriState Water Works always learns what is new and exciting in the world of irrigation. After thorough testing, we're confident that the Hydrawise controller is ready to bring smart watering to your irrigation system.
TriState Water Works is a local Cincinnati irrigation company that offers Prompt & Proven Sprinkler Service.
Smart Watering Reviews
Have had used TriState Water Works for years. Consistently knowledgable, helpful, and reliable.
Very responsive and efficient in winterization of sprinkler system.
We've used TriState Water Works for our sprinkler system winterization and spring startup several times at two different homes and they are always excellent and professional. The most recent visit was from Nicholas who was very polite and efficient with excellent communication. Highly recommended!
On-time, clean, job done right, good price,...What else could you ask for?
Would recommend. My home has a very complex and delicate sprinkler system and TriState WW has managed it well from repairs to winterization.
On time. Courteous and efficient. We depend on Tri-State Water Works every spring and fall.
As usual the TriState service was excellent. Easily made an appointment over the phone. The Technician arrived 4 hours early, was already in the area doing other services and was able to do ours as well. Very courteous, efficient, knowledgeable. TriState continues to be an excellent service and well worth the money.
Alek serviced our sprinkler system for the end of season blow out. What a nice man. He explained everything to me as this was my first experience with an underground sprinkler system. A couple of months earlier Tim repaired a valve and also he explained what he was doing. What a great company. So much better than another company I called. TriState Water Works really cares about the customer.
We have used TriState Waterworks for several years and always pleased with their services. They are courteous, professional and always do a great job!
They are the best ever. They show up on time and always take care of business.
Everyone at TriState is excellent! I would definitely recommend them them for all irrigation needs.
Wow, wow, wow. A business that cares about the customer. What a great feeling in today's world where that appears to be hard to find. Very responsive, very helpful and very fair in pricing. I highly recommend them for any of your irrigation system needs
This company is the best!! We have never been disappointed with any aspect of TriState WaterWorks. Everyone is friendly, knowledgeable, efficient and reliable. Would highly recommend them for their unparalleled service.
They keep their appointment times or they call if running ahead of schedule
Guys were courteous and knew their stuff!
Tech was great knowledgeable, friendly, and offered great advice. Would highly recommend
A great company that does a very professional job.Been using them for many years. They are the BEST
The service people who come out are always great. They are knowledgeable and friendly. The support staff are more than kind as well. Highly recommend.
I've been using TriState Water Works for years now. And they have never let me down. The most honest, thorough and fair company I've come across.
5 STARS!
I switched to this business after a couple of disappointing experiences with one of their competitors. They've been very responsive to my inquiries and sent out a very skilled, hardworking and friendly technician. He was able to get my irrigation system ready for the season, including a couple of repair efforts as the system is getting long in the tooth. Thanks guys!
Eric is amazing! He does the job with utmost sincerity and dedication. He builds a special bond with his clients.