Smart Watering with a Sprinkler System Controller
Smart Watering from TriState Water Works
Smart watering with a Hydrawise sprinkler system controller takes irrigation to the next level. Save time and money, all while guaranteeing optimal performance from your sprinkler system.
Benefits of Smart Watering: Automatic Adjustments and Alerts
Smart watering means the Hydrawise controller is monitoring your system at all times and will automatically adjust your watering schedule if:
There's a drought in the area
The day is going to be particularly hot and sunny
We're getting more rain than usual in the season
Rain or shine, your lawn and garden will get the right amount of watering. And you'll save up to 50% on your water usage!
Via the Hydrawise app, you'll be notified if any problems occur, like:
A wire is inadvertently cut during landscape maintenance
A sprinkler head gets broken
An underground valve springs a leak
Call TriState Water Works with any alerts, and we'll be able to fix the problems or make optimizations, before your lawn and garden can be affected.
Sprinkler System Controller Pricing
There is a one-time set-up fee of $1200- $2400, depending on the number of sprinkler zones.  Sprinkler system controller pricing includes:
Installation of all hardware required to run the system
Set-up of Hydrawise sprinkler system management software
Training on the sprinkler system controller and Hydrawise app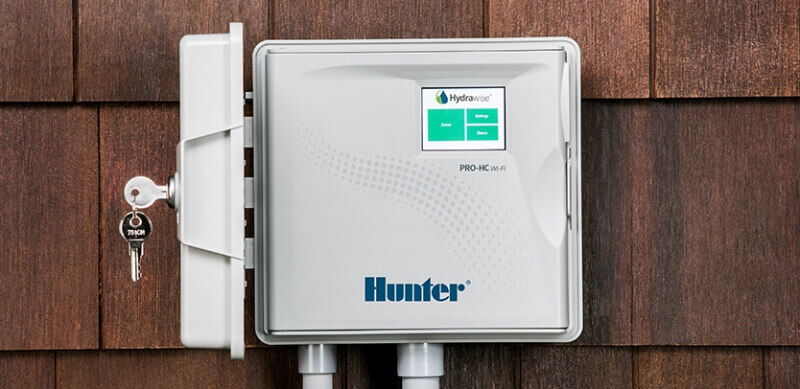 About TriState Water Works
Living up to our core value of Unceasing Improvement, TriState Water Works always learns what is new and exciting in the world of irrigation. After thorough testing, we're confident that the Hydrawise controller is ready to bring smart watering to your irrigation system.
TriState Water Works is a local Cincinnati irrigation company that offers Prompt & Proven Sprinkler Service.
Smart Watering Reviews
Sean's employees are always friendly, timely and knowledgeable.
Thank you Matthew and Sean being on site for our spring start up, well done.
As usual, TriState Water Works, Tim, was prompt, efficient and friendly. He let me know that he had to replace a damaged sprinkler head. I have come to expect great service from whoever comes to my house to turn the system on in the Spring and turn it off in the Winter...I'm never disappointed!
Excellent service with my irrigation start up today. Prompt, courteous and efficient! Explained all aspects and replaced a few heads on the sprinklers. Would highly recommend TriState Water Works!
I have used TriState for many years now and I have to say that I always have good service with Tim. In fact, I prefer to use no one else but him. He's technically great regarding my irrigation system and has a great personality to boot. I have used others but please keep Tim on my route! Thank you, Joyce Deupree
Nicholas did an outstanding job of finding and fixing all of the issues with our irrigation system. He was polite, professional and knowledgable. I switched to Tri-State a few years ago for our irrigation opening, closing and maintenance and I an so glad I did. Their employees have integrity, work hard to solve issues and ensure that every plant is being watered. I can't say enough!
The technician from Tristate Water Works arrived on time to winterize our in-ground watering system. He was polite, explained what he would be doing, and executed the work in expert and timely fashion. We could not ask for any better service!
1st class service in every area. The service tech was a greatrepresentative for TriState. More companies should operate this way. Five stars for Alek, your tech.
Nickolas always does a good job of testing all the sprinkler heads to make sure my lawn and flowers are covered properly. He always shows up on time and is very pleasant.
Excellent service and follow up with any issues I've had with a broken sprinkler head etc. I would say 6 stars. Always super helpful and courteous.
Have had used TriState Water Works for years. Consistently knowledgable, helpful, and reliable.
Very prompt and good. If there is something that you are not satisfied with, they will make it right. Very dependable.
Excellent service and communication. Our technician, Nicholas, was very professional and a super nice guy!
My irrigation system was winterized. The technician explained what he was doing and left everything neat. He was very friendly and made sure to answer my questions. I will be using this company again in the Spring to turn the system back on.
We have used TriState Water Works for about 6 years now and would not think of using anyone else. Alex came out this time and performed with excellence both in the mechanical aspect and the communication of what he did and what has to be done on start up next year. Thank you Alex.
As usual the TriState service was excellent. Easily made an appointment over the phone. The Technician arrived 4 hours early, was already in the area doing other services and was able to do ours as well. Very courteous, efficient, knowledgeable. TriState continues to be an excellent service and well worth the money.
Tristate Water Works continues to impress me. Low key, reliable and always willing to listen and respond. I have now expanded my use to their landscape lighting division and have found them to be similarly capable and responsive. They are exactly what a service company should be: competent and responsive.
If I lived in the greater Cincinnati area, and didn't work with Irrigation I would definitely give Shawn and his guys a try. They are very knowledgeable and professional people.
I can not say enough good things about this company. If you want it done right you'll make the call to them now! Eric is the man!! If you have a wiring problem (or any problem for that matter) with your system he will fix it and fix it fast!! Kuddos!! Glad we found your company!!
Alex was very professional, knowledgeable, and courteous.
I recently had Tristate Water Works out to perform maintenance on our irrigation system as well as have it upgraded. Eric was awesome and professional the entire time, even texted us a few days after install to make sure everything was running smoothly. Very happy with our new irrigation system!