Smart Watering with a Sprinkler System Controller
Smart Watering from TriState Water Works
Smart watering with a Hydrawise sprinkler system controller takes irrigation to the next level. Save time and money, all while guaranteeing optimal performance from your sprinkler system.
Benefits of Smart Watering: Automatic Adjustments and Alerts
Smart watering means the Hydrawise controller is monitoring your system at all times and will automatically adjust your watering schedule if:
There's a drought in the area
The day is going to be particularly hot and sunny
We're getting more rain than usual in the season
Rain or shine, your lawn and garden will get the right amount of watering. And you'll save up to 50% on your water usage!
Via the Hydrawise app, you'll be notified if any problems occur, like:
A wire is inadvertently cut during landscape maintenance
A sprinkler head gets broken
An underground valve springs a leak
Call TriState Water Works with any alerts, and we'll be able to fix the problems or make optimizations, before your lawn and garden can be affected.
Sprinkler System Controller Pricing
There is a one-time set-up fee of $1200- $2400, depending on the number of sprinkler zones.  Sprinkler system controller pricing includes:
Installation of all hardware required to run the system
Set-up of Hydrawise sprinkler system management software
Training on the sprinkler system controller and Hydrawise app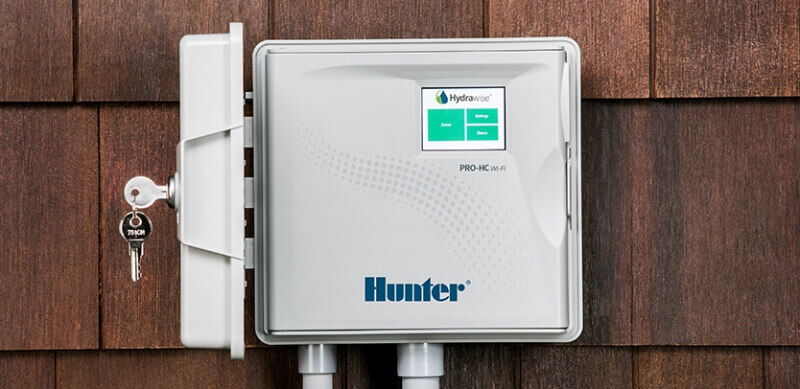 About TriState Water Works
Living up to our core value of Unceasing Improvement, TriState Water Works always learns what is new and exciting in the world of irrigation. After thorough testing, we're confident that the Hydrawise controller is ready to bring smart watering to your irrigation system.
TriState Water Works is a local Cincinnati irrigation company that offers Prompt & Proven Sprinkler Service.
Smart Watering Reviews
Great job fixing our sprinkler system. Hard working and completed work at quoted the price. Matther Meredith is hard working and very professional.
TriState Water Works does a great job caring for my sprinkler system each year.
I wanted to tell you about an exceptional young man who came to my house today. His name is Garrett and he was very knowledgeable, polite and professional! It was refreshing to have someone out that liked their job and did a great job taking care of my issues. I was very pleased and would have him back anytime! Tammie I
Most responsive and professional business we deal with in maintaining our property.
A great company that does a very professional job.Been using them for many years. They are the BESTFantastic company. ERIC IS THE GREATEST !!!!!!!!!!!!!!!!!!!!!!!!!!!!
I have been a customer of Tri State Waterworks for more than ten years. They do wonderful work. Very knowledgeable, professional and do excellent work. I enjoy working with Matthew, their technician to refine the irrigation system to ensure lawn and shrubs are properly watered. I highly recommend Tri State Waterworks!
We have used the services of TriState Water Works for several years for our irrigation system and have always had outstanding and very prompt service. The system has been in place for many years and has developed a few aging problems, which I can personally relate to, however Garrett Wilson's visit today to perform and provide a thorough inspection gave it a new life! Garrett was very professional, timely, and clearly knows his business, a pleasure to work with. In addition to the inspection and suggestions to resolve some issues that have arisen over the years, Garrett was able to very quickly make a couple of repairs to bring the system back into usefulness during this visit. We are looking forward to his return to make further repairs and upgrades. Thank You TriState Water Works for continuing to staff with outstanding people like Garrett.
Matthew was amazing! Very knowledgeable and professional!
We have been using TriState now for several years and are very satisfied. They are always professional and prompt. We took advantage of the complementary system inspection special. It was a pleasure to work with Garrett who was able to fix a few minor issues. We highly recommend them for your sprinkler maintenance and repair needs.
Great people, know there staff is a pleasure to work with! Tim is a seasoned employee who is able to solve and fix some of the most challenging issues. It is a pleasure to work with Tim and TriState Water Works.
Tim did a fantastic job fixing our sprinkler system. Professional, explained all steps, protected our lawn … and everything with a smile!!
I was having trouble with some zones of my irrigation not working. Also, rain sensor wasn't working.Technician arrived at scheduled time and quickly diagnosed the issues. Modules in control box were quickly removed, cleaned, and reinstalled, solving the problem with nonworking zones. Rain sensor just needed new batteries. Overall, less than 30 minutes to get things going as good as new. Technician was courteous and professional. I had anticipated possibly having to get a new control panel, but it turned out to be an inexpensive fix.
We've used Tristate water works for several years and wouldn't use anyone else. Excellent customer service and they do great work.
I always get great service from TriState Water Works. The employees are friendly and do great work. I highly recommend them.
As usual the TriState service was excellent. Easily made an appointment over the phone. The Technician arrived 4 hours early, was already in the area doing other services and was able to do ours as well. Very courteous, efficient, knowledgeable. TriState continues to be an excellent service and well worth the money.
Matthew installed drip in 7 flower pots in my front yard. He was very friendly and made sure I had it done the way I wanted. The price was very reasonable. I recommend them.
Tri-State Water Works have been so reliable for the many years I've been using them. I am especially grateful for their responsiveness when we have had an issue with our sprinkler system. This last time they came out immediately and worked to resolve the problem so quickly. I was very impressed by their quality of service.
Always professional and always on time. Great crew.
Timely, friendly service that I have relied on for many years. With this visit, he repaired a broken PVC water line against the house and replaced it with copper to eliminate the chance of it cracking again due to settling/erosion.
Sean's employees are always friendly, timely and knowledgeable.
Thank you Matthew and Sean being on site for our spring start up, well done.