Smart Irrigation Controllers Give You a Personalized Weather Report
We've shown how you Save Water with Hydrawise Smart Irrigation, and that nearly all of our customers are enjoying significant savings. Let's take a look at how Hydrawise controllers do their magic.
Hydrawise Controllers:
An Overview of Predictive Watering
Hydrawise controllers connect with local weather stations to predict the weather at your property and adjust the water schedule accordingly. The goal is for your lawn and landscaping to receive the ideal amount of water for healthy growth.
Hunter, the manufacturer of Hydrawise, requires some configuration for each irrigation zone:
"For each zone, we'll ask you to specify the watering length and peak watering frequency:

The watering length is how long water needs to run to fully water your zone.
The peak watering frequency is how often you would normally water this zone during your peak irrigation period.

The controller will vary your watering frequency based on actual evaporation and rainfall in your area on a day-to-day basis."
When we install your Hydrawise controller, we configure the system using our horticulture expertise. You can rest assured that your smart watering system is customized for your property.
Hydrawise Controllers:
Get Local Weather Forecasts
Although your smart watering system will be worry-free, you may be interested in some of the reports generated by the Hydrawise controller. The system is integrated with a local weather station, and you can view these weather forecast reports.
Here's a sample of weather forecasts from different weather stations for the dates Mar 15 – Apr 4, 2023.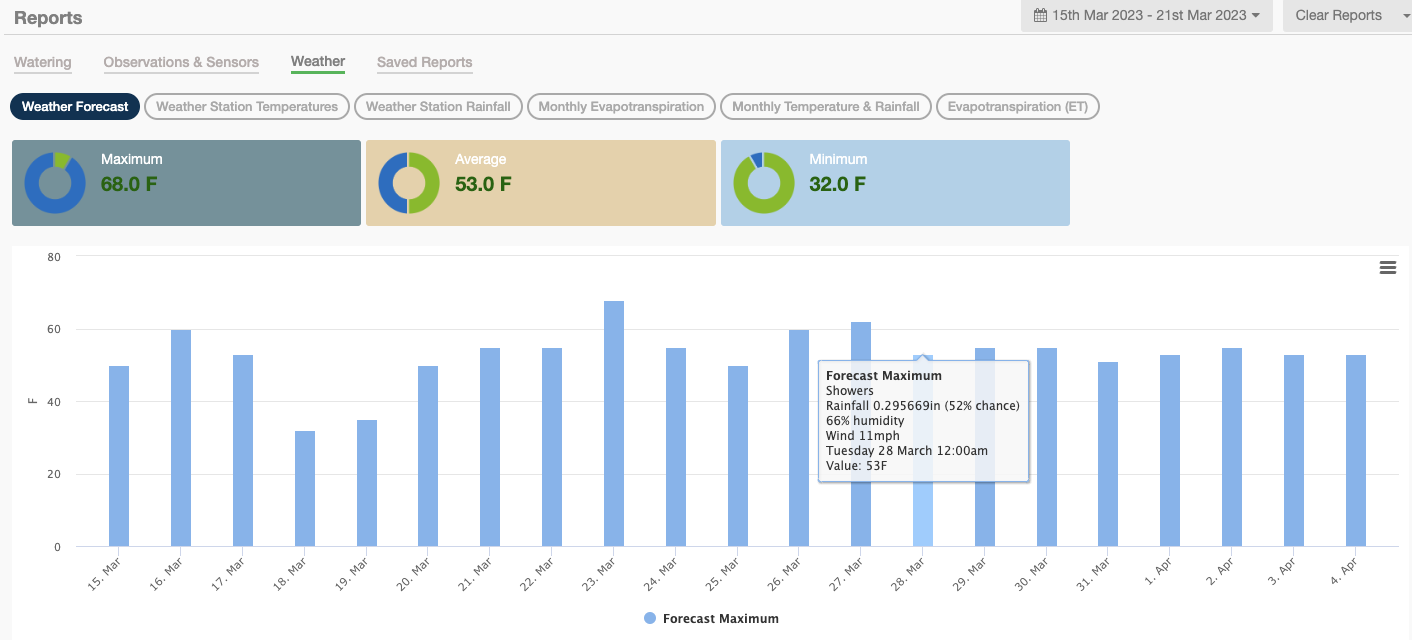 Hydrawise Controllers:
View Historical Weather Reports
An interesting benefit to Hydrawise controllers is the ability to view historical weather reports from the weather station you're using. You'll be able to see:
Monthly average high temperature
Monthly average low temperature
Monthly average rainfall
Here are a few examples from Cincinnati-area Hydrawise controllers.

Hydrawise Controllers:
See Daily Rainfall
To see how much rain fell on a given day, you can drill down into that report. Here's the rainfall from May to November, showing a total of 24.4 inches in that period.

Visit our Smart Watering Resources for information on the Hydrawise controller, and contact us if you have any questions about how to use your smart watering system.