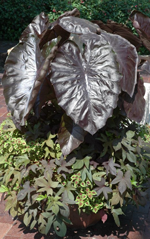 Your sprinkler system helps you have a beautiful garden, and the Cincinnati Zoo has a list of their favorite annuals to really make your garden stand out. Here's the top 10:
Colocasia Black Coral
Colocasia Red-Eyed Gecko
Coleus Alabama
Helichrysum Licorice
Hypoestes Splash Select White
Impatiens Bounce White
Impatiens Sunpatiens® Compact Electric Orange
Impatiens Sunpatiens® Spreading White
Lantana Luscious® Marmalade
Lantana Landmark™ Rose Sunrise
The zoo's celebrated botanical gardens include 15,000 annuals and over 250 varieties each year. Visit Zoo's Best Annuals for the complete list.
Call us now for your sprinkler system spring start-up and get ready for spring and summer splendor in your garden!