In the summer, hardly anything is better than sitting in your own backyard, under the comfort of a shade tree. Consider these six interesting and unique shade trees for your landscape.
Kentucky Coffee Tree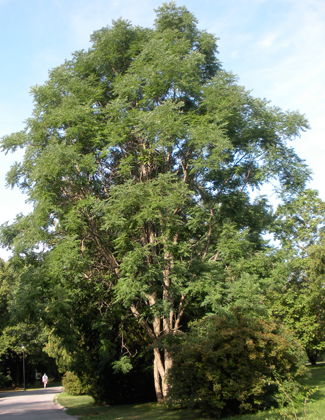 This unusual tree has offers great texture in both leaves and bark, and grows to 60-75 feet, with a 40-50 foot spread. It's the epitome of a lazy summer. Midwest Living adds:
"I like the uniqueness of this species. It's kind of an ugly duckling when first planted, but then it grows into a tree that's soft textured in the summer, and it has no disease or insect issues. This unique native (Gymnocladus dioicus) is tolerant of urban conditions, limestone soils, and dry or moist settings. Ornamental seed pods ripen in fall and last well into winter. Zones 3-8."
Bitternut Hickory
This hickory tree makes nuts that are inedible for humans, but may bring the squirrels to your yard. It has beautiful, bright yellow leaves in the fall and reaches its height of 60-75 feet faster than other hickories. Midwest Living provides planting details:
"Bitternut (Carya cordiformis) grows best in moister soil, but it adapts well to dry sites and poor soil, too. Zone 4."
Accolade Elm
Elm trees are classically American, and this one grows to 60 feet, with a 50-60 foot canopy. It features a deep, glossy foliage. Simply beautiful! And if you're worried about disease, Midwest Living can ease your mind:
"If Dutch elm disease makes you wary of ever planting elms again, Accolade elm (Ulmus japonica wilsoniana 'Morton') may be the hybrid to change your mind. (Its trade name is Accolade; 'Morton' is its cultivar name.) It has excellent disease and insect resistance, thrives in urban landscapes and is notably drought-tolerant and cold hardy. Plant in any soil other than those that are excessively wet. Hardy to Zone 4."
Northern Red Oak
This tree is made for large lawns. It's the fastest-growing oak, grows 60-80 feet high and offers a 40-60 foot spread. In the fall, enjoy its orange, brown and red foliage. Midwest Living compares it to a pin oak:
"This tree is not as prone to chlorosis as pin oak. Northern red oak (Quercus rubra) tolerates pollution and various soils, including compacted soil. Zones 3-9."
Yellow Poplar or Tuliptree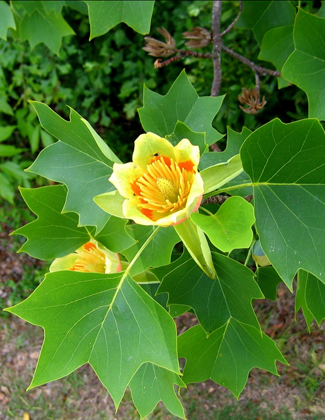 Named for its uniquely-shaped leaves, the tuliptree can grow from 70-90 feet high. It sports attractive cream and orange flowers in May and June, along with yellow foliage in the fall.  The National Arbor Day Foundation adds:
"The tuliptree grows well in acidic, loamy, moist, sandy, well-drained and clay soils. It prefers normal moisture but can tolerate drought in humid regions."
River Birch
You can't beat a birch for unique, textured bark. River birch features a curling bark and is fairly resistant to birch borer. Although this tree enjoys life by the riverside, it would be just as happy in your backyard. It grows 40-70 feet high, with a 40-60 foot spread. In his Dirr's Hardy Trees and Shrubs, Michael Dirr writes:
"'Heritage' river birch is an excellent selection with superior vigor, larger leaves, and greater resistance to leaf spot."
Did your favorite shade tree miss our list? Let us know! And here's hoping you are enjoying a shady summer.